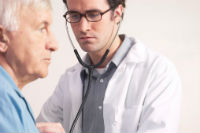 HealthLeaders recently organized a Roundtable on a topic of ever-growing importance and concern – Healthcare Acquired Infections (HAIs). I participated in the HAI discussion alongside four other healthcare industry leaders. The issue directly affects patient care, dynamics, and bottom line performance. To create a thriving organization, as I have previously discussed, a connection between employee responsibility and the responsibility of the employer needs to be made. In the case of HAIs, we have boiled this idea down to three dynamics: culture, leadership, and organizational commitment. Though, it's important to realize, the success and sustainability of the characteristics depends heavily on systems. Systems and supporting processes ensure an effective and efficient workplace when coupled with those high-level dimensions.

The other industry leaders who participated in the discussion included:
Marilyn Dubree- Executive Chief Nursing Officer
Gerald Hickson- Senior Vice President for Quality, Patient Safety & Risk Prevention
William Maples- Senior Vice President & Chief Quality Officer
Steve Seeley- Vice President, Chief Operating Officer & Chief Nursing Officer
Creating a strong culture is the first step towards a workplace that can support tasks and procedures aimed at preventing HAIs. Culture, leadership, and organizational commitment are important to the success of utilizing these tasks and procedures, and the implementation of this dynamic is what the HealthLeaders discussion yielded. C-suite executives aren't the only ones making a difference in the fight against HAIs. Supervisors, managers, and employees interacting daily with patients can make a positive impact given the appropriate tools and leadership guidance. HAIs and other healthcare problems become less of a risk in organizations that value quality of care as well as worker and patient safety.
In the article, the panel discussed specific instances or ways to address HAIs. These examples can be applied to the problem directly or to other cases that have occurred in your workplace. The incidence of HAIs is a real and growing problem that can be treated and maintained by implementing a way of thinking and supporting processes and systems, not the other way around. A challenge is now at the feet of healthcare leaders: Make the strong connection between employee and employer responsibility. The Roundtable offered influential scenarios and proactive actions to ensure the challenge is met and, overall, will benefit those impacted by HAIs in the healthcare industry. A separate but notable aspect of the HAI position is the correlation between employee safety and patient safety. The fact is, worker safety plays a critical role in patient safety, and both have an impact on HAI prevention. Ultimately, the challenge of using organizational systems and processes to connect worker safety to patient safety must be addressed. The success of HAI prevention depends on it.
Extracting the opinions of the HealthLeaders and HAI panelists then connecting them to specific day-to-day operations is important, now more than ever. Beginning October 1, 2014, hospitals with the highest preventable HAI rates will be penalized 1% in addition to existing federal penalties. This is the time to accept the challenge of establishing workplace culture to maintain preventable HAIs.