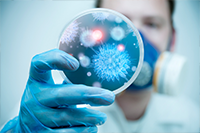 The 2014 Ebola outbreak in West Africa has been the worst since it first appeared more than 30 years ago. As of July 31, 2014, the current outbreak of Ebola has infected more than 1,300 people and has killed 729 people across Sierra Leone, Guinea, Liberia, and Nigeria. It is highly contagious and the outbreak is not yet contained. In its early stages, the virus mimics the common cold, making it difficult to diagnose. But within a few days, the virus progresses quickly and serious complications, even death, can arise.
Ebola Virus Disease (EVD), formerly known as Ebola hemorrhagic fever, is a severe, often fatal, illness that first appeared in Africa in 1976. This deadly virus, which has a fatality rate of up to 90%, primarily occurs in remote villages near tropical rainforests. The virus is initially transmitted from wild animals to humans, and then spreads from human-to-human through direct transmission. Once a person has been infected with the virus, it can be spread through blood, urine, saliva, and other bodily fluids. It can also be spread if broken skin comes into contact with soiled linens, clothing, or used needles.
Although this deadly disease seems so far away from the majority of us, the danger becomes present when we realize how easily infectious diseases can be transmitted.
An individual is infectious with Ebola at the onset of symptoms and remains infectious as long as their blood and secretions contain the virus, which has been reported to be as long as 61 days. This represents a huge window in which infection can be spread. As populations become urbanized and more mobile, the potential for infection grows exponentially.
For example, what happens when one person enters a plane after having been infected with the disease?
One U.S. citizen has already died in the Nigerian capital of Lagos. He traveled there by plane, after attending the funeral of his sister who also died from this deadly disease. He reportedly boarded the plane showing no symptoms but was vomiting and had diarrhea by the time he arrived in Lagos. That one decision--to ride on a plane--could potentially have spread the disease to multiple individuals riding along as well. Those individuals could then unknowingly pass the virus further as they continue to travel.
Healthcare workers are also at an increased risk of infection while treating patients with the disease. Two U.S. citizens, a medical aid worker and a medical doctor working for a humanitarian organization caring for Ebola patients, have both been confirmed as infected with the disease. Both of these workers practiced proper infection control methods and standard precautions, so this shows how truly dangerous and infectious these diseases can be. All it takes is one slip of proper infection control measures, and workers can be exposed to the disease.
Due to non-specific early symptoms and the high level of contagiousness, healthcare workers treating Ebola patients must practice standard precautions and infection control measures at all times. The World Health Organization (WHO) provides expert recommendations for infection control measures and created an aide-memoire on standard precautions in health care settings.
There currently is no vaccine and no cure for Ebola. For those healthcare workers and others travelling to these countries, it's important to know the signs and symptoms. Some of the symptoms of the Ebola virus are:
Sudden onset of fever
Intense weakness
Muscle pain
Headache and sore throat
These symptoms are followed by:
Vomiting and diarrhea
Rash
Impaired kidney and liver function
Internal and external bleeding
Like any infectious disease, it's important to be aware of the threat these diseases pose and be prepared to prevent the spread of the disease. In the end, it could be the difference between one person getting sick and having an infectious disease spread throughout a large employee or vulnerable patient population.