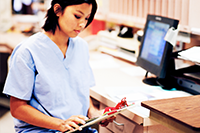 Success in occupational health service delivery largely depends on a healthcare organization's ability to meet the needs of all stakeholders. In hospitals and health systems, occupational health (e.g., workers' compensation injury treatment and management, screening exams, medical surveillance, wellness/health promotion, outpatient rehabilitation) is a strategic business initiative that spans the care continuum. It provides a dynamic portal of access to healthcare services for employers, employees and their dependents.
To remain competitive and adaptable, healthcare professionals must be prepared to address employer's clinical needs while simultaneously offering services in a manner that is cost-effective and compliant with federal and state regulations.
Growing employer interest in managing the well-being of working populations is demonstrated by the National Institute of Occupational Safety and Health's Total Worker Health Initiative, which focuses on the integration of health protection and promotion programs. Because the employer/payer, not the employee, is typically the guarantor for occupational health services, fees often are negotiated and client company profiles vary widely. SYSTOC, UL Workplace Health and Safety's information management solution for occupational health programs, accommodates these complexities.
In moving forward, healthcare organizations can successfully leverage occupational health as a multi-disciplinary practice that will allow them to further cultivate important relationships with employers while astutely managing worker health, injury, illness and disability.
Investment in a dedicated occupational health information management solution with an electronic medical record (EMR) application is a business decision that supports safer, healthier workplaces for people – a goal that aligns with the objectives of hospitals and employers in the communities they serve.