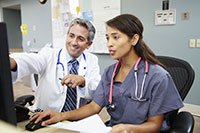 Occupational health is an information-intensive business encompassing a broad spectrum of services. Consequently, provider-based occupational health programs typically cannot achieve their full potential without a dedicated information management solution designed to ensure connectivity, security, immediacy and accuracy in data collection, documentation, reporting, coding and billing.
A health care organization's commitment to occupational health data collection/management and clinical record keeping is particularly important. Work-related medical and employment records are subject to an evolving scope of laws that dictate how employers may use, disclose, and dispose of them.
It's essential for employers and their health care partners to understand and comply with patient privacy laws and other employment-related legislation. Federal acts including Health Insurance Portability and Accountability, Americans with Disabilities, Family and Medical Leave, and Genetic information Non-Discrimination frequently intersect with state workers' compensation rules and occupational health and safety regulations.
Employment law attorneys advise employers to use a health IT solution that allows them to segregate information and adhere to confidentiality safeguards for services including:
Pre-placement drug screen results
Post-employment physical examination results
Health insurance claim information
Employee requests for leave and related medical reports
Return-to-work releases from physicians
Workers' compensation medical records
Information describing disabilities
Health and life insurance application information
OSHA supplemental incident reports
When an electronic medical record (EMR) contains medical history unrelated to work, patients/employees may be hesitant to sign release forms, impeding information flow and possibly the delivery of appropriate medical care.
SYSTOC, UL Workplace Health and Safety's information management solution for occupational health programs and clinics, provides secure connectivity and confidentiality regardless of where services are delivered. SYSTOC is designed to protect patient privacy while allowing appropriate access to employment-related health information.
If an EMR system does not facilitate distinctions between personal health and work-related health, it creates confidentiality and other liability risks for the parent organization.
–
For additional reading, feel free to reference UL's initial blog post on EMR support.