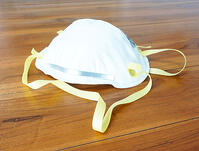 There's a simple tool that can help keep healthcare workers from contracting or spreading infection. It's the respirator. Most of us have seen or used one of these physical barriers to keep airborne infections like H1N1, tuberculosis, or SARS at bay. But did you know that respirators are effective only when used properly? Even the simple donning (putting on) and doffing (taking off) process can, if performed incorrectly, expose healthcare workers to disease-causing agents. An insufficient seal or improper fit can allow pathogens to sneak through. Finally, some workers don't have access to the appropriate kind of respirator, and some even have to reuse the ones they do have.
Healthcare workers have a responsibility to keep their patients from harm; this includes keeping themselves healthy to prevent the spread of disease. Hospital administrators have a responsibility to keep their employees safe through engineering controls (isolation rooms for infected patients) and immunization programs, and finally, by ensuring that workers are properly trained on and have access to appropriate respirators.
In the United States, at least 20 million workers—healthcare and otherwise—are required to wear respirators on the job.There are two classes of respirators: Air Purifying Respirators and Air Supplying Respirators. Air Purifying Respirators, the type most commonly used in healthcare situations, use filters, cartridges, or canisters to remove contaminants from the air that workers breathe. The Atmosphere Supplying Respirator provides the worker with clean air from an uncontaminated source such as a tank. These are more common for chemical workers, firefighters, or those in low-oxygen environments.
Healthcare workers are most familiar with the filtering facepiece respirator like the N95, which requires fit testing and ongoing training. In most cases regarding airborne infectious particles and aerosols, a surgical mask is not sufficient. A surgical mask acts as a physical barrier against droplets but does not provide the tight fit that is necessary to halt a wide size range of infectious aerosolized pathogens. It should never be used as a substitution when the N95 is required.
Hospital administrators are required by OSHA regulations to provide appropriate protections for their employees and to ensure those employees know how to use them properly. Occupational Health Nurses (OHNs) are ideally positioned in many hospitals as subject matter experts and the administrator of their organization's respiratory protection program. They are experts in occupational safety and health across industries, including healthcare. Additionally, they are front-line advocates for preventing worker injury and illness and promoting a culture of safety and health in the workplace.
Consistent and appropriate use of respirators is crucial to ensure the health of individuals and to minimize the worker's exposdure to infectious particles. Healthcare administrators and workers each shoulder some of the responsibility. As we look toward the end of summer and the start of the flu season, how does your hospital and your workforce stack up?
Dive deeper into this topic of discussion by attending the upcoming webinar "The Development of Respiratory Protection Competencies & Training Modules" on Thursday, August 21, 2014.