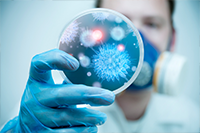 Since 2012, the Middle East respiratory syndrome coronavirus (MERS-CoV) has infected more than 600 individuals and has resulted in over 190 deaths. To date, it has been reported in a total of 18 countries, and the numbers continue to grow. Within the past month, the disease has made it to the Netherlands and the United States of America.
On May 2, 2014, the first U.S. case of MERS was confirmed in a traveler from Saudi Arabia to Indiana, via London and Chicago. According to the Center for Disease Control (CDC), the patient is a healthcare worker who lives and works in Saudi Arabia. He was isolated in the hospital during the illness before being released fully recovered.
On May 11, 2014, a second imported case of MERS-CoV was confirmed in a visitor to Florida from Saudi Arabia. This patient, also a healthcare worker, traveled from Saudi Arabia to Orlando via London, Boston and Atlanta. The patient is presently isolated in a hospital and is improving. Similar to the first U.S. case, people who may have been exposed to the patient during air travel and in the hospital are being notified.
As healthcare workers are traveling to the Middle East and assisting in taking care of an infected person, the risk of transmission increases greatly. Infection control and prevention measures are critical to avert the spread of MERS-CoV in health care facilities and other organizations. It's important to note, this is not just limited to healthcare workers. Other workers and individuals alike who are traveling to these regions need to be aware of the potential for contact with an infected person.
According to the World Health Organization, it's not always possible to identify MERS-CoV patients early, because the symptoms are unusual or mild. For this reason, it's important for workers to maintain standard precautions and to assume all patients are potentially infected. In many instances, repeat testing for individuals who came in contact with the MERS patient is highly important due to the possibility of the disease testing negative initially. It's advised for healthcare providers to maintain vigilance during these times and stay abreast of the patients' health situations.
If you have been in contact with someone who has a probable or confirmed case of MERS-CoV infection, watch for these symptoms:
Fever (100° F or higher)

Coughing

Shortness of breath

Chills, body aches, sore throat, headache, diarrhea, nausea/vomiting, and runny nose are also symptoms to be aware of.
Maintaining proper infection control and prevention methods is critical in the fight against MERS and other infectious diseases. For situations such as MERS, the CDC has prepared for the potential for more cases globally and in the U.S. The CDC has:
Enhanced surveillance and laboratory testing capacity in states to detect cases

Developed guidance and tools for health departments to conduct public health investigations

Provided recommendations for healthcare infection control and other measures to prevent disease spread

Provided guidance for flight crews, Emergency Medical Service (EMS) units at airports, and U.S. Customs and Border Protection (CPB) officers about reporting ill travelers to CDC

Disseminated up-to-date information to the general public, international travelers, and public health partners.
For more information on MERS-CoV: