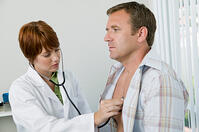 When a worker applies for physically demanding job, it is important to match the physical abilities of that worker to the physical demands of the job. This is an essential step in worker safety and in reducing on-the-job injuries. The physical demands of the position often go unaddressed in the pre-employment process, which can result in a mismatch of what the employee can do and the physical demands the job. This mismatch often leads to work related injuries, and if the physical capabilities of the applicant are in line with the physical demands of the job initially, fewer injuries will occur.
The first step in creating this procedure is to develop a job description, which includes the "physical demands" of the job. Frequently the physical demands are not considered in job descriptions, and this is an error of omission, especially when the job is physically demanding. This step is crucial but involves additional expertise. The development of these demands requires a thorough review of the job by an ergonomist. The ergonomist often "shadows" the worker and determines the essential components of the job as well as measuring the forces required to complete the job tasks.
In the next step, the ergonomist assimilates the data collected and develops the evaluation. The evaluation serves as the tool which determines if the applicant is physically capable of safely performing the essential job functions. It can consist of lifting, pushing and pulling weights mirroring the weights which will be required to be handled on the job. It can also consist of measurements of physiological parameters (i.e. heart rate, blood pressure) while simulating job tasks at the testing site.
Finally is the administration of the prior-to-hire evaluation. The examinee must be prepped about what is to be expected and counseled in regard to medications, proper dress and amount of time that the evaluation will take. Once the evaluation is complete, the medical provider reviews the results of the evaluation. The provider then combines all of the information available to him/her and makes a decision in regard to the applicant's ability to safely perform the essential job functions and reports the final decision to the employer.
For a more in-depth explanation, please attend my interactive presentation on Thursday, July 31, 2014. I will discuss the monetary value and real-life scenarios of the 'Economies of Prior to Hire Functional Exams.' To register for and attend the upcoming webinar, please click here.