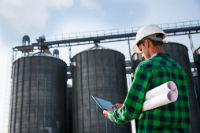 Are you ready for mLearning? The first part of this blog series should have given you some food for thought about whether and how your company might use mLearning. If you think it's the right tool for you, let's look at how you might design a program.
Creating a strong mobile experience requires simplicity. Mobile training programs should use only the content that is relevant to a mobile learner and discard the rest. This results in a simple and focused experience that cuts down the risk of losing learners and helps to avoid scrap learning. Mobile is a way to deliver different learning experiences, so it should be appropriately applied. Consider the audiences that are most dependent on mobile devices, such as executives or field technicians, and those that are the least dependent, such as the frontline employees. Each of these groups participates in learning events but with varying levels of detail and different approaches to delivery.
To help to form a strategy and determine where mobile learning may be appropriate and where eLearning will suffice, consider the five moments of need:
1. When learning for the first time
2. When wanting to learn more
3. When trying to remember
4. When things change
5. When something goes wrong
-Dr. Conrad Gottfredson (from Gottfredson and Mosher (2011)
A blended learning program takes full advantage of all learning mediums, including mobile. It begins with a well-designed learning experience, which can be a curated collection of resources and activities for learning as it relates to a specific need. A learning environment can be designed by assembling a recommended collection of materials and then making those resources accessible to learners who need them. For example, we can build the collection of resources around a formal event on a specific topic (e.g., Hazard Communication). The blended curriculum extends learning by providing additional links, job aides, tutorials, examples, training, and more. It also includes learning moments for supervisors and leadership that encourages the transfer of the safe behaviors to the job, and sets the tone for a corporate culture of safety. Implementing a bundled approach can help expand your program from targeted training to a blended learning program.
So, how do you go about developing a mLearning strategy for your organization? Here are few areas to consider:
What does mobile mean to your company? Definitions of mobile differ from person to person. Often, it's synonymous with portable and can refer to laptops and tablets. Other times, it strictly means cellphone or smartphone. In planning an mLearning strategy, consider the devices that will support your portability goals and the availability of those devices to the workforce.
What problems are you trying to solve? Mobile is just one element of an effective eLearning strategy. Consider how you can make the most impact with mobile learning events, and which audience is best suited for mobile learning. Performance support, job aids, tutorials, and brief how-to units are best suited for mobile delivery today.
How does mobile fit with your current training program? Mobile learning can improve employee performance, productivity, and retention but does not meet every moment of need. Consider the broader training curriculum and the goals of your organization and workforce. If an employee can take the same training on a laptop, it is not mobile learning.


Is your organization ready for mLearning? Mobile devices are already in organizations, whether IT has planned for them or not. Regardless of whether employees are using a Samsung Note or an iPhone 5, a well-planned mobile strategy considers the organization's key objectives instead of quick reactions to new technologies or competitors' initiatives. Your mobile strategy needs to align with your company's IT and security framework. Consider the types of devices being used, the increased security risks, and the amount of support both employees and devices will receive. The best strategies require a strong partnership between the learning and development group and the IT department.
Mobile learning is one important component of a blended approach that should be learner and device-focused. Attention spans on mobile devices are shorter and time is more precious, so bite-sized content needs to be easily accessed and quick to complete. Better integrating mLearning into your overall training strategy will help foster a culture of ongoing learning and safe behaviors that extends beyond one-time training events.