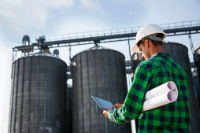 What is the most powerful learning tool that most of your employees carry every day? Mobile devices such as smartphones and tablets have become ubiquitous and incredibly powerful. Think about how you already use your device to get information. What have you learned with your mobile device?

Mobile learning—or mLearning—is defined as "learning across multiple contexts, through social and content interactions, using personal electronic devices." With the use of mobile devices, learners can learn anywhere and at any time. Mobile learning focuses on how the learner interacts with portable technologies and reflects a focus on how society and its institutions can accommodate and support an increasingly mobile population. Using mobile tools becomes an important part of learning that can happen anywhere and anytime.

But what does mobile actually mean? Many organizations equate mobility with portability. They are in the early stages of mobilizing training and do not yet have a formal strategy for supporting learning across a variety of devices and operating systems. Some organizations have even adopted "bring your own device" programs due to the lack of support for and consistency across company-issued devices. A Gartner study predicts that 38% of companies will stop providing devices to workers by 2016.

There are a few key things to remember:
Mobile is not a device but a way of moving experiences around.
Mobile is not the desktop made smaller. It is a different medium and different design approach.
Mobile content is lighter, simpler content that results in a better learner experience.
Mobile learning is only one component of blended learning.
Simply having the content and the ability to mobilize it is not enough on its own. Transferring an existing PC-based training module to a mobile device will result in a poor user experience. Small devices simply do not lend themselves to high levels of interactivity. Learners are less likely to complete a long training course or certification program, such as OSHA's 10 hour training, on a mobile device. On-the-go employees may be in situations where they are likely to be distracted or interrupted, so lengthy, immersive learning experiences may not be ideal. Battery life, connectivity, device ownership, screen size, security, and BYOD (bring your own device) policies can all affect employees' learning. As a result, goals should be immediate and simple, bite-sized content is key, and rapid access to information is vital.
Mobile learning is not a replacement for other learning options but a supplement or reinforcement for learning and a platform for providing performance support. The real goal of mLearning is to enhance the value of training in an increasingly commoditized eLearning market. It needs to offer more than just eLearning modules and reach more than just front-line employees. The right kinds of content for the right context/device will allow companies to meet the needs of learners beyond a one-time training event.
Take a look at your own organization: Are you ready for mLearning? Do your workers need what mLearning can offer? Stay tuned for Part 2 of this blog for tips on establishing a comprehensive mLearning experience for your employees.
For Teri Hale's entire presentation on mLearning, please click here to download and watch the webinar.