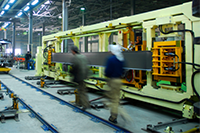 I am a journalist, writing mainly about work injury risk. My research over the years has led me to appreciate the special workplace safety and health risks faced by low-wage immigrant workers, who account for about one out of every five work-related injuries in the U.S. today. I developed and manage a personal blog on that subject: www.workingimmigrants.com.
In early 2013 I approached Concentra, a national provider of occupational medicine and walk-in healthcare, and Broadspire, a workers' compensation third party administrator, with a proposal. I told them that American employers needed something that did not exist: a handy guide to improving the safety and health of immigrant workers. Both firms signed on, and I worked with them throughout most of last year to research and write Work Safe: An Employer's Guide to Safety and Health in a Diversified Workforce.
Preparing the guide was one of the most educational experiences of my entire career in work injuries, which began in some 25 years ago. I conversed with many safety professionals, healthcare providers, worker activists, academic researchers and corporate executives. Quite to my surprise, I found within each of these (and other) groups an identical pattern of fluency about safety and health issues of immigrant workers. Namely, that only a small share had made themselves expert on these issues, which they did by trial and error over many years.
For instance, ensuring safety compliance among immigrants who may not speak English (or read at all) and who haven't a clue about what OHSA is or what workers' compensation is all about, requires techniques that probably the majority of safety professionals know, but have not had the occasion to perfect.
I found that tools and resources needed for the job existed but were hard to find. For example, how do you find someone with the talent to draw a cartoon that provides an accurate visual narrative of safety precautions? How do you determine whether an employee who speaks both English and the language of her or his co-workers is in fact fluent enough to be relied on for communicating safety data? Finding low-cost, simple solutions to these and perhaps 50 other puzzles made for an exciting year.