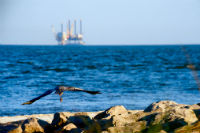 I've been doing emergency response work since the mid-1980s, usually without the luxury of adequate time and resources, and often without a bed, food or sleep for days on end. I've dodged bullets, looters and rattlesnakes, worked 18-24 hours per day for weeks at a time and found out that you really don't have to change clothes every week. I've been called a "feeder at the public trough" and a "guardian angel," been cursed at in unrecognized languages and asked by a shy little girl in east Texas for my autograph. I have watched people die and been able to help save others, witnessed heroism and selflessness and endured bone-crushing stupidity. The front line of this work is real-time natural selection. It moves fast and is unforgiving.
The Incident Management Team (IMT) is a fixture in modern response work. EPA has the resources to maintain these teams, but private sector Responsible Parties (RPs) usually need response contractors to fill that need. In support of BP's response to the 2010 Deepwater Horizon oil release, I was the Planning Specialist embedded with the U.S. Coast Guard in Sector Key West. We integrated the National Park Service and U.S. Fish and Wildlife into the planning process to develop site-specific tactical response plans for protection of the Dry Tortugas National Park, the Marquesas Islands, the Keys and the southern Everglades. Our plans addressed a multitude of threatened and endangered species, refuges, marine sanctuaries, cultural artifacts and sensitive ecosystems unique to the Keys. Also included were the inherent difficulties of oil spill response in these areas. The oil never reached the Keys, but well-thought-out plans are now in place and resources committed to at least give them a fighting chance. Later in 2010, I served in Michigan as the RP Planning Section Chief. Recognized as the the largest oil spill in the history of the Midwest, the response was complicated for both an EPA region and RP with little experience in oil spills.
There may be hundreds, thousands or even tens of thousands of response personnel involved, and the politics, power struggles and economic and social implications are huge. Everything depends on effective coordination. What the military calls "situational awareness" involves knowing what is going on around you and how it affects your operation. NIMS and ICS by Presidential Directive are the "common language" of all response activities in the U.S. The EPA speaks it very well and expects others to do the same, but RPs continue to struggle. My advice always: Be able to run it, teach it and live it. Intimidating and seemingly filled with rigid structure and ritual, perhaps, but fail to keep up and watch how fast you get marginalized on your own response.
The first casualty in battle is the plan, and the simple fact is that when all else fails, the ability to improvise is key. You won't do that well without experience and vigilance. Demand it of yourself and others on which you rely.